| | |
| --- | --- |
| Posted on 10 November, 2011 at 17:45 | |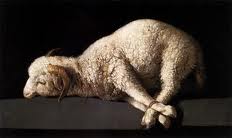 The word "For" is a little word that has different meanings. Let's see two.
"And he [John the Baptist] came into all the country about Jordan, preaching the baptism of repentance for the remission of sins…." Luke 3:3
Did you see that word, "for?"
Here it is, again, twice: "…I delivered unto you first of all that which I also received, how that Christ died for our sins according to the scriptures…" (I Corinthians 15:3) and "Who gave himself for our sins, that he might deliver us from this present evil world, according to the will of God and our Father...." (Galatians 1:4)
When we say, "Christ died FOR our sins," it could either mean that He died so that we CAN sin or that He died BECAUSE of your sins.
Did Christ die so we CAN sin? Of course not! That's silly. Obviously, He died BECAUSE of our sins—FOR our sins.
When John the Baptist came, "preaching the baptism of repentance for the remission of sins…" (Luke 3:3) all the sins, up until that point, were remitted [pardoned—temporarily covered], but NOT paid for.
Early on, God gave the Jews two chances to be saved: Once at the cross, when Christ cried out "Father forgive them…" (Luke 23:34), and once in Acts two.
In Acts Two the Jews cried out "In light of the fact that we just crucified our Messiah, 'What shall we do?'" (Acts 2:37) What was the answer? "Then Peter said unto them, Repent, and be baptized every one of you in the name of Jesus Christ for the remission of sins, and ye shall receive the gift of the Holy Ghost." (Acts 2:38) Do you see that word, again, "for?" These Jews had to be baptized in the name of Jesus Christ, BECAUSE their sins were remitted [taken away] by the Messiah that they had just crucified. And, if they didn't want to be associated with the generation that killed Him, they should go down and get baptized.
"For the promise is unto you [Jews], and to your children, and to all that are afar off, even as many as the Lord our God shall call. And with many other words did he testify and exhort, saying, Save yourselves from this untoward generation." Acts 2:39-40
Now look at Matthew 26:26-28…
"And as they were eating, Jesus took bread, and blessed it, and brake it, and gave it to the disciples, and said, Take, eat; this is my body. And he took the cup, and gave thanks, and gave it to them, saying, Drink ye all of it; For this is my blood of the new testament, which is shed for many for the remission of sins."
Did you see the last five words? Here it is, again... "for the remission of sins"—for the taking away of sins, in full payment. Clear of them.
God had been forgiving men's sins back to Adam, without a BASIS for doing it. It's like a credit card for sins that hadn't been paid. Now that the Messiah's once for all payment has been applied—past and future sins have all been paid for, in full. All, today, who own Him as their Saviour, have their sins forgiven AND taken away by his precious blood.
"In whom we have redemption through his blood, even the forgiveness of sins…." Colossians 1:14
Let's look back to a time before the Messiah came. The Jews, in the Old Testament shed blood, too.
"Moreover he sprinkled with blood both the tabernacle, and all the vessels of the ministry. And almost all things are by the law purged with blood; and without shedding of blood is no remission." Hebrews 9:21-22
In the old Testament, the Jews had to shed blood to get their sins remitted [pardoned—temporarily covered]. In fact, God had been forgiving them for two thousand years (before Christ came) without their sins being taken away. When Christ came, this sinless man shed his blood—sinless blood—because, before that time sins were being forgiven, but not full taken away—not CLEARED.
"Neither by the blood of goats and calves, but by his own blood he entered in once into the holy place, having obtained eternal redemption for us." Hebrews 9:12
Never doubt that the Old Testament saints were forgiven…
"And the LORD passed by before him, and proclaimed, The LORD, The LORD God, merciful and gracious, longsuffering, and abundant in goodness and truth, Keeping mercy for thousands, forgiving iniquity and transgression and sin [see it], and that will by no means clear the guilty [they were temporarily pardoned, but not, yet, cleared]…." Exodus 34:6-7
Moses substantiated it, in verse nine…
"And he [Moses] said, If now I have found grace in thy sight, O Lord, let my Lord, I pray thee, go among us; for it is a stiffnecked people; and pardon our iniquity and our sin, and take us for thine inheritance."
That shed blood, however, under the law, from bulls and goats, only covered sins. The comers thereto were forgiven, but not cleared. No one, yet, had their sins taken away. That's why no one who died under the Old Testament went to Heaven. Everyone whose sins were forgiven under the law went to Abraham's Bosom (Luke 16). But, when the debt was paid, Christ "…descended…into the lower parts of the earth…" (Ephesians 4:9) to transport those in paradise directly up to Glory. Hallelujah, the debt was paid. Jesus paid it all. All to him I owe. The Old Testament debt—on that side of the cross and our debt—on this side of the cross, has been paid—paid in FULL.
"But now the righteousness of God without the law is manifested, being witnessed by the law and the prophets; Even the righteousness of God which is by faith of Jesus Christ unto all and upon all them that believe: for there is no difference: For all have sinned, and come short of the glory of God; Being justified freely by his grace through the redemption that is in Christ Jesus: Whom God hath set forth to be a propitiation through faith in his blood, to declare his righteousness for the remission of sins that are past [Old Testament], through the forbearance of God…." Romans 3: 21-25

Pastor Bob
Categories: None
/