| | |
| --- | --- |
| Posted on 12 November, 2011 at 13:30 | |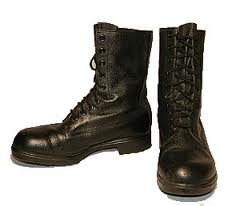 ‎Someone recently posted…
"2 Tim 2:3 Thou therefore endure hardness, as a good soldier of Jesus Christ. Soldiers wear boots, not ballet slippers, so don't be surprised if I step on your toes and my preaching hurts your feelings."
The one that who originally penned II Timothy 2:3, also, said...
"But we were gentle among you, even as a nurse cherisheth her children...." (I Thessalonians 2:7) Moreover, he wrote to Timothy—the SAME person, in the exact SAME chapter… "And the servant of the Lord must not strive; but be gentle unto all men...." (II Timothy 2:24)
I remember Chuck Hamilton telling me thirty-nine years ago that "you don't need a ten pound sledge hammer for a two penny nail."
Some of the brethren are wearing combat boots in areas of life that will just as easily accommodate and even call for more delicate shoes. ("Bam Bam," from the Flintstones, wasn't the only cartoon character we were watching, when we were growing up, you know.)
With their self-absorbed machismo, prominantly protruding from the legend in their own mind, they have disregarded the Apostle Paul's estimation of fitting in, for so long, that they lost its meaning. Here it is, again.  "For though I be free from all men, yet have I made myself servant unto all, that I might gain the more. And unto the Jews I became as a Jew, that I might gain the Jews; to them that are under the law, as under the law, that I might gain them that are under the law; To them that are without law, as without law, (being not without law to God, but under the law to Christ,) that I might gain them that are without law. To the weak became I as weak, that I might gain the weak: I am made all things to all men, that I might by all means save some. And this I do for the gospel's sake…." (I Corinthians 9:19-23a)
I remember, when stationed in Florida, servicemen, whose time was up, leaving the service to re-enter civilian society. Since all many of them knew and understood was the language of "grunt," it was hard for them to get re-acclimated into normal society. Being a soldier was so ingrained in them, they were cumbersome when it came to living a life outside of the military.  This prompted many of them to re-enlist. We called them "lifers," because they just didn't/couldn't fit in anymore into civilian life.
Being refined doesn't make you a compromiser. It helps you fit better into society.
No one is suggesting that we shouldn't be a good soldier of Jesus Christ. And, grunting is perfectly acceptable, when it truly has been summoned by the Holy Ghost. But, I'm afraid, brethren, the Lord has called many to spiritual refinement who are still choosing to wear combat boots.
Pastor Bob
Categories: None
/