Shopping Cart
Your Cart is Empty
There was an error with PayPal
Click here to try again
Thank you for your business!
You should be receiving an order confirmation from Paypal shortly.
Exit Shopping Cart
| | |
| --- | --- |
| Posted on 14 December, 2011 at 14:00 | |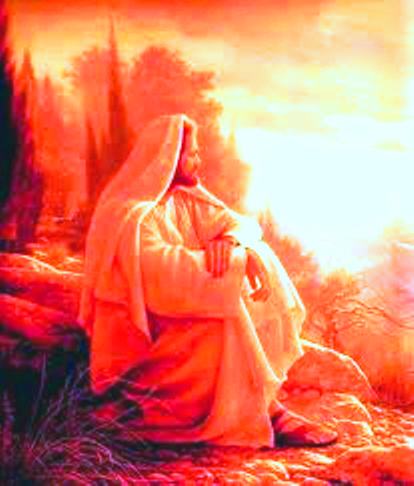 With all the singing that is recorded in the scripture, it's almost impossible to believe that Jesus never sang. Here are two places of scripture that shows there was singing and music in the Old Testament…
"Also Jehoiada appointed the offices of the house of the LORD by the hand of the priests the Levites, whom David had distributed in the house of the LORD, to offer the burnt offerings of the LORD, as it is written in the law of Moses, with rejoicing and with singing, as it was ordained by David." (II Chronicles 23:18)
"And the children of Israel that were present at Jerusalem kept the feast of unleavened bread seven days with great gladness: and the Levites and the priests praised the LORD day by day, singing with loud instruments unto the LORD." (II Chronicles 30:21)
I wonder what it sounded like to hear Jesus sing. You know He sang, don't you? The one place Scripture records Him singing is…
"And when they had sung an hymn, they went out into the mount of Olives." (Matthew 26:30; Mark 14:26)
Jesus sang with the Disciples. They all sang "an hymn." I wonder what these hymns consisted of. Here's a hint…
"And Jesus answered him, saying, It is written, That man shall not live by bread alone, but by every word of God." Luke 4:4
I wonder what Jesus would've sung about? Wouldn't it be songs of praise and thankfulness to the Father, and songs of a suffering servant—songs of agony? Like David's songs, weren't they songs of peace and redemption, and songs about Jerusalem, the holy city of God?
Since, Jesus quoted scripture, doesn't it makes sense that He put some of it to music? Can't we conclude that Jesus sang scriptural songs like Saint Paul told us to do? (Colossians 3:16) Here are a few of the Psalms Jesus quoted. Try to put them to music. Try to sing them…
"And said unto him, Hearest thou what these say? And Jesus saith unto them, Yea; have ye never read, Out of the mouth of babes and sucklings thou hast perfected praise?" (Matthew 21:16 quoting Psalm 8:2)
"The LORD said unto my Lord, Sit thou on my right hand, till I make thine enemies thy footstool? " (Matthew 22:44 quoting Psalm 110:1)
"For I say unto you, Ye shall not see me henceforth, till ye shall say, Blessed is he that cometh in the name of the Lord." (Matthew 23:39 quoting Psalm 118:26)
"Jesus answered them, Is it not written in your law, I said, Ye are gods?" (John 10:34 quoting Psalm 82:6)
"I speak not of you all: I know whom I have chosen: but that the scripture may be fulfilled, He that eateth bread with me hath lifted up his heel against me." (John 13:18 quoting Psalm 41:9)
"But this cometh to pass, that the word might be fulfilled that is written in their law, They hated me without a cause." (John 15:25 quoting Psalm 35:19; 69:4)
"The Spirit of the Lord is upon me, because he hath anointed me to preach the gospel to the poor; he hath sent me to heal the brokenhearted, to preach deliverance to the captives, and recovering of sight to the blind, to set at liberty them that are bruised, To preach the acceptable year of the Lord." (Luke 4:18-19 quoting Isaiah 61:1-2)
"Then believed they his words; they sang his praise."  (Psalm 106:12)

Pastor Bob
Categories: None
/