| | |
| --- | --- |
| Posted on 1 February, 2012 at 10:45 | |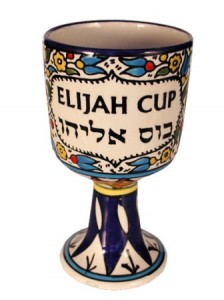 No wonder the Jews missed the Messiah...
Rabbi Dov's answer to Carole's question... "I am having a Passover Seder for my grandchildren. Why is there a cup of wine for Elijah?"
"...The cup of Elijah derives from a problem in Talmudic Law. The problem is not knowing exactly how many cups of wine to drink at the Seder, four or five. The number of cups is based on the four expressions of deliverance, but there is actually a fifth expression of deliverance.
So, the rabbis came up with the perfect Jewish compromise. We fill the fifth cup, but we don't drink from it. And since Elijah will proceed the Messiah, who will be able to tell us whether four or five cups are correct, we make the fifth cup of wine Elijah's cup.
In some Seder services, each person at the Seder contributes some wine to the fifth cup, symbolizing everyone sharing in the messianic hope. At other Seder services, wine from the cup of Elijah is mixed with the fourth cup...
I hope that this gives you some helpful background.
Best wishes,
Rabbi Dov"
 ~ ~ ~ ~ ~ ~ ~ ~ ~ ~ ~ ~ ~ ~ ~ ~ ~ ~ ~ ~ ~
The problem with the above answer is...
The Jews rejected Jesus and, today, in their Passover sedar, they reject His FORERUNNER...
"Behold, I will send my messenger, and he shall prepare the way before me [Matthew 3:1-3]: and the Lord, whom ye seek, shall suddenly come to his temple [The temple was there when Jesus came], even the messenger of the covenant, whom ye delight in: behold, he shall come, saith the LORD of hosts." Malachi 3:1
Had the Jews believed what Jesus said (Matthew 11:11-15; 17:10-13), they would have known His forerunner was John...

"But the angel said unto him, Fear not, Zacharias: for thy prayer is heard; and thy wife Elisabeth shall bear thee a son, and thou shalt call his name John.  And thou shalt have joy and gladness; and many shall rejoice at his birth.  For he shall be great in the sight of the Lord, and shall drink neither wine nor strong drink; and he shall be filled with the Holy Ghost, even from his mother's womb.  And many of the children of Israel shall he turn to the Lord their God.  And he shall go before him in the spirit and power of Elias, to turn the hearts of the fathers to the children, and the disobedient to the wisdom of the just; to make ready a people prepared for the Lord."  (Luke 1:13-17)
The Jews are waiting for Elijah to come and drink the "fifth" cup of wine, when God said he wouldn't.  (Luke 1:15)
Pastor Bob
Categories: None
/