| | |
| --- | --- |
| Posted on 6 November, 2012 at 15:30 | |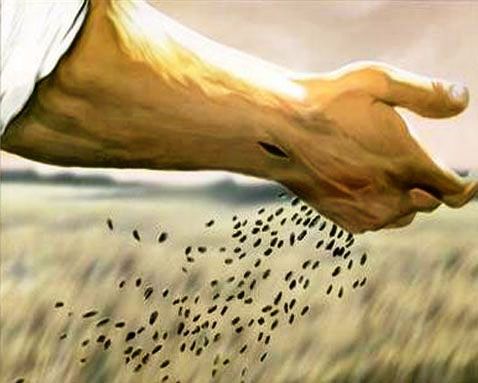 II Corinthians 9:5-11 
5  Therefore I thought it necessary to exhort the brethren, that they would go before unto you, and make up beforehand your bounty, whereof ye had notice before, that the same might be ready, as a matter of bounty, and not as of covetousness. 6 But this I say, He which soweth sparingly shall reap also sparingly; and he which soweth bountifully shall reap also bountifully. 7 Every man according as he purposeth in his heart, so let him give; not grudgingly, or of necessity: for God loveth a cheerful giver. 8 And God is able to make all grace abound toward you; tha ye, always having all sufficiency in all things, may abound to every good work: 9 (As it is written, He hath dispersed abroad; he hath given to the poor: his righteousness remaineth for ever. 10 Now he that ministereth seed to the sower both minister bread for your food, and multiply your seed sown, and increase the fruits of your righteousness;) 11 Being enriched in every thing to all bountifulness, which causeth through us thanksgiving to God. 
II Corinthians 9:10 is my main text...

"Now he that ministereth seed to the sower both minister bread for your food, and multiply your seed sown, and increase the fruits of your righteousness;" 

I wanted you to notice that there are three things that happen when someone gives, but first, let me say this... Giving is a ministry.  In fact, the Apostle Paul points out in the above verses that giving seed is a ministry.  Want proof?  Here's proof: Did you ever try to plant something, without seed? 

"See, I have this day set thee over the nations and over the kingdoms, to root out, and to pull down, and to destroy, and to throw down, to build, and to plant."  (Jeremiah 1:10)
You can pull out all the weeds and rocks out of a parcel of ground and make perfect furrows in the dirt, but, unless you have seed to plant, all that work would have been done in vain.  Why?  Because it doesn't have seed.  It won't produce anything!

You need seed. 

Now here is my question.  Do you have seed?  Did God give you some seed?  You say, "I earned it, myself."  Okay, Christian, I'll do it your way.  Didn't God give you the job you have and the air you breathe while you were working at that job?  Didn't He keep you safe, while you were working?  Isn't He the One who advanced you to a good paying position and give you the wisdom to save and invest your money? 
Whether you acknowledge it or not, Christian, you have something that God wants back.  Seed... money.  He didn't give it to you just to store it up.  He gave it to you so that you would use it, use it for Him.  Notice what Jesus said, in Luke 12:15-21…
"…Take heed, and beware of covetousness: for a man's life consisteth not in the abundance of the things which he possesseth.  And he spake a parable unto them, saying, The ground of a certain rich man brought forth plentifully: And he thought within himself, saying, What shall I do, because I have no room where to bestow my fruits?  And he said, This will I do: I will pull down my barns, and build greater; and there will I bestow all my fruits and my goods.  And I will say to my soul, Soul, thou hast much goods laid up for many years; take thine ease, eat, drink, and be merry.  But God said unto him, Thou fool, this night thy soul shall be required of thee: then whose shall those things be, which thou hast provided?  So is he that layeth up treasure for himself, and is not rich toward God."
God gave you what you have, because He wants you to give it away.  Let's face it, you can't do anything with stored up seed.  It just sits there, in a dark hiding place.  It's useless if not in circulation.   

Let's see what our Lord thinks about a servant who stored up the money he's been given...  

"Thou wicked and slothful servant… Thou oughtest therefore to have put my money to the exchangers, and then at my coming I should have received mine own with usury.  Take therefore the talent from him, and give it unto him which hath ten talents.  For unto every one that hath shall be given, and he shall have abundance: but from him that hath not shall be taken away even that which he hath.  And cast ye the unprofitable servant into outer darkness: there shall be weeping and gnashing of teeth." (Matthew 25:26-30)  [Obviously, it's not referring to a born-again Christian, because a Christian can't be lost, like verse thirty says.]
If someone didn't know it before reading this message, the most selfish thing that a Christian can do in this life is to give.  Let me prove it to you…  Turn back to our main text:  II Corinthians 9:10
"Now he that ministereth seed to the sower both minister bread for your food, and multiply your seed sown, and increase the fruits of your righteousness…" 
Let me break this verse down for you, so you can see what I'm saying.  When you provide seed to the sower, you…
1. Minister bread for your food.
2. Multiply your seed sown.
3. Increase the fruits of your righteousness.
Look at all three results, again.  See the word "your" in them all?
Here it is again…
1.  YOUR food.
2.  YOUR seed.
3.  YOUR righteousness.
God will reward you above all that you can ask or think.  How?  By your giving!
If you give, you get.  Just that simple.  If you are stingy, you lose.
God is counting on you, Christian, to do the right thing with what He gives you.  He trusted you with it in the first place. Do you trust Him enough to use what He has provided you for His glory?  Someone got rewarded for how they used their talents in Matthew twenty-five; will He reward you for how you use yours? 

What talent are you holding back?
"Give, and it shall be given unto you; good measure, pressed down, and shaken together, and running over, shall men give into your bosom. For with the same measure that ye mete withal it shall be measured to you again." (Luke 6:38)
Pastor Bob
Categories: None
/