| | |
| --- | --- |
| Posted on 24 November, 2012 at 22:30 | |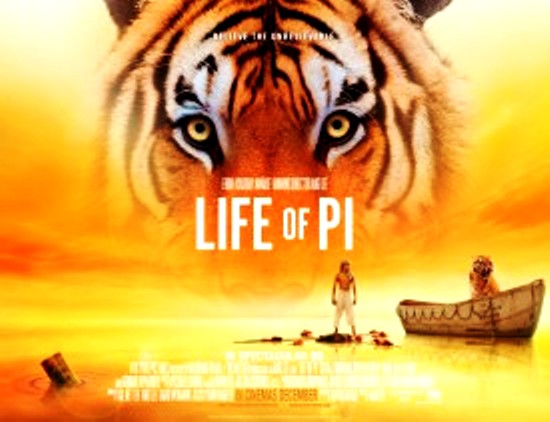 http://www.youtube.com/watch?v=j9Hjrs6WQ8M

We usually do not go to the movies.  But, since my in-laws came to visit and wanted to be a blessing to our family, they took us out to dinner and to see a movie.  The movie that everyone wanted to see was "The Life of Pi;" an adventure, one that you might take your child to.  This movie had zero sexual content in it and, to eveyones enjoyment, many animals.

By the time the credits started running at the end of the movie, I took inventory in my mind as to what was just said.  What was the bottom line?  After I heard the question that Pi asked the story writer, I felt like I was just sucker punched.  (If you plan on viewing the movie, yourself, please read no further.)

This movie was a film about God—this young man's conception of God, anyway.  The first part of the movie presents Pi's conception of God that changed with every new life encounter he experienced.  In other words, Pi kept on changing his religion as he learned of someone's conception of God.  He concluded that all Gods/gods are the same. Even though there were two different versions of Pi's story at the end of the movie, whatever you believed about the story really didn't matter, since they were all the same/similar….  Like the Chinese investigators in the story, whatever version you wanted to believe is okay.  That thought justified what was presented to the movie-goer early on.   Whatever you believe is okay, because all roads lead to God. 

This movie will teach you to have faith in God, sure.  But, the question comes in, which one?

Are all gods the same?

Didn't Jehovah say…

"I am the LORD, and there is none else, there is no God beside me: I girded thee, though thou hast not known me: That they may know from the rising of the sun, and from the west, that there is none beside me. I am the LORD, and there is none else…"?  (Isaiah 45:5-7)

Didn't Jesus say…

"...I am the way, the truth, and the life: no man cometh unto the Father, but by me…"? (John14:6)

Didn't the Apostle Paul say…

"For there is one God, and one mediator between God and men, the man Christ Jesus…."?  (I Timothy 2:5)

Are there different gods and different ways to him/her/it?  Could there be two ways to God or possibly even three?

And, last, doesn't the God of the Bible say that when the Devil appears, he appears as an angel of light that looks like God (himself)?  (II Corinthians 11:14)

If you are a blood washed Saint of God and get the chance to view this movie, do yourself a favor, don't waste your time.

Pastor Bob
Categories: None
/