| | |
| --- | --- |
| Posted on 9 April, 2013 at 19:00 | |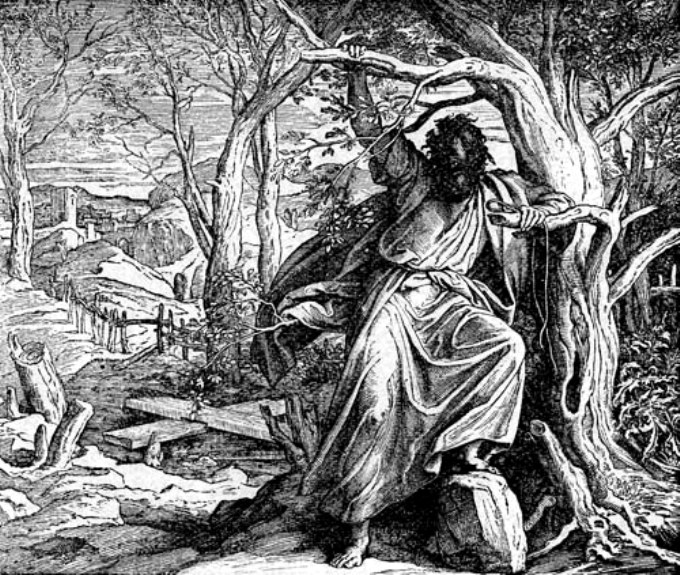 Are you a Bible-believer?  So am I.  Since we label ourselves as "Bible-BELIEVERS," I was hoping you'd see exactly what the Lord showed me, earlier today.  As I was thumbing through a few verses of scripture, this is what I saw…
"Men and brethren, this scripture must needs have been fulfilled, which the Holy Ghost by the mouth of David spake before concerning Judas, which was guide to them that took Jesus."  (Acts 1:16)
Here is the whole text.  Will you read them with me?  There are only six verses…
Acts 1:15 And in those days Peter stood up in the midst of the disciples, and said, (the number of names together were about an hundred and twenty,) 16 Men and brethren, this scripture must needs have been fulfilled, which the Holy Ghost by the mouth of David spake before concerning Judas, which was guide to them that took Jesus. 17 For he was numbered with us, and had obtained part of this ministry. 18 Now this man purchased a field with the reward of iniquity; and falling headlong, he burst asunder in the midst, and all his bowels gushed out. 19 And it was known unto all the dwellers at Jerusalem; insomuch as that field is called in their proper tongue, Aceldama, that is to say, The field of blood.20 For it is written in the book of Psalms, Let his habitation be desolate, and let no man dwell therein: and his bishoprick let another take.
By now, I hope I have your curiosity up.
The title to this article is "How Peter Viewed Scripture."  Now, the only scripture that the Apostle Peter had, when he was quoting them to the other Apostles, was the Old Testament.  So, any reference to "scripture" would have been a reference from the Hebrew Bible. 

The subject in this verse (remember, I'm only talking about Acts 1:16, here) was the fulfillment of replacing Judas who "had obtained part of" Christ's apostolic ministry (verse 17), and now needed to be replaced since he (Judas) was dead.
Peter believed his Old Testament.  He believed what "…the Holy Ghost by the mouth of David spake before concerning Judas…."  (Verse 16)  In other words, he took what David said in the Old Testament Psalms as Bible prophecy about his present situation.   He believed that the Holy Ghost revealed to David the exact thing that he and the other Apostles were experiencing right then.  In other words, he believed the Bible concerning a prophecy that was foretold by King David, a thousand years beforehand.
Let's look at this again, in the next chapter…
Acts 2:25 For David speaketh concerning him, I foresaw the Lord always before my face, for he is on my right hand, that I should not be moved: 26 Therefore did my heart rejoice, and my tongue was glad; moreover also my flesh shall rest in hope: 27 Because thou wilt not leave my soul in hell, neither wilt thou suffer thine Holy One to see corruption. 28 Thou hast made known to me the ways of life; thou shalt make me full of joy with thy countenance. 29 Men and brethren, let me freely speak unto you of the patriarch David, that he is both dead and buried, and his sepulchre is with us unto this day. 30 Therefore being a prophet, and knowing that God had sworn with an oath to him, that of the fruit of his loins, according to the flesh, he would raise up Christ to sit on his throne; 31 He seeing this before spake of the resurrection of Christ, that his soul was not left in hell, neither his flesh did see corruption. 32 This Jesus hath God raised up, whereof we all are witnesses. 33 Therefore being by the right hand of God exalted, and having received of the Father the promise of the Holy Ghost, he hath shed forth this, which ye now see and hear. 34 For David is not ascended into the heavens: but he saith himself, The LORD said unto my Lord, Sit thou on my right hand, 35 Until I make thy foes thy footstool. 36 Therefore let all the house of Israel know assuredly, that God hath made that same Jesus, whom ye have crucified, both Lord and Christ.
Peter looked at Psalms Sixteen and knew that David wasn't referring to himself, so what did he do?  He pointed out to these Jews that the scripture he was quoting from had to do with Christ, instead of David.  Peter believed his Bible, placing the scripture that had to do with prophecy in its TRUE context by properly applying them to the RIGHT person in the CORRECT situation.
Pastor Bob
Categories: None
/