| | |
| --- | --- |
| Posted on 26 March, 2014 at 18:05 | |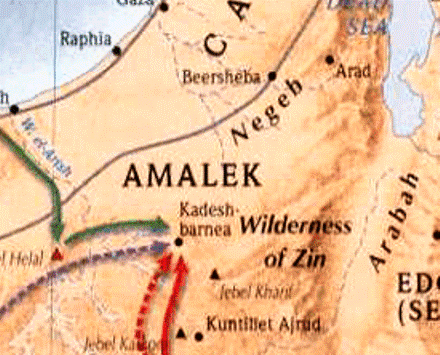 Genesis 36:12 And Timna was concubine to Eliphaz Esau's son; and she bare to Eliphaz Amalek: these were the sons of Adah Esau's wife.
…and…
I Chronicles 1:35 The sons of Esau; Eliphaz, Reuel, and Jeush, and Jaalam, and Korah. 36 The sons of Eliphaz; Teman, and Omar, Zephi, and Gatam, Kenaz, and Timna, and Amalek.
Amalek (a type of the flesh; progenitor of the Amalekites, Israel's persistent enemy —[see Exodus 17:8 note in the Scofield reference notes]) is grandson to Esau (who was a fornicator or a profane person, who for one morsel of meat sold his birthright. [See Hebrews 12:16]).

Galatians 4:22 For it is written, that Abraham had two sons, the one by a bondmaid, the other by a freewoman. 23 But he who was of the bondwoman was born after the flesh; but he of the freewoman was by promise. 24 Which things are an allegory: for these are the two covenants; the one from the mount Sinai, which gendereth to bondage, which is Agar. 25 For this Agar is mount Sinai in Arabia, and answereth to Jerusalem which now is, and is in bondage with her children. 26 But Jerusalem which is above is free, which is the mother of us all. 27 For it is written, Rejoice, thou barren that bearest not; break forth and cry, thou that travailest not: for the desolate hath many more children than she which hath an husband. 28 Now we, brethren, as Isaac was, are the children of promise. 29 But as then he that was born after the flesh persecuted him that was born after the Spirit, even so it is now.
Categories: None
/