| | |
| --- | --- |
| Posted on 25 July, 2017 at 18:35 | |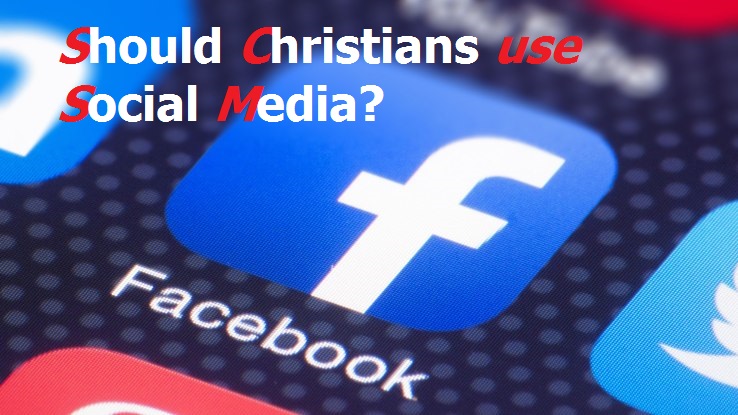 Guest commentary, by Tim Breckheimer (c) 2017

Social media is not an overnight phenomena. It has actually been around for quite a while. It started using social media back in the early to mid 90's when AOL Instant Messenger, ICQ and Yahoo Groups were the big things. But when things like Facebook, Twitter and YouTube showed up, social media exploded. As with any trend, the question comes up as to whether it is okay for a Christian to take part in it. Is social media completely bad? Or can it be used for some good?

Over the years I have heard many preachers who have either spoken about or preached against the use of social media from the pulpit. While most will speak against the overuse or abuse of social media, along with warnings of the evils that can be present, some will go as far has to say that Bible believers should not use social media at all. I seen where some pastors will even go as far as bullying their congregations by calling them rebels, or not letting people serve in their church if they use Facebook. Meanwhile, they, themselves, have no problem using YouTube, which is full of trash and filth. Instead of preaching the Book, and letting the Holy Spirit do the convicting, they preach their personal preferences or convictions which often sounds more like a dictatorship.

I often find that those who take such an extreme stand against social media either have no real idea what social media is, had never been on social media, or they were on for a short bit of time and didn't care for it or didn't like what they were seeing their unsaved family and friends post. I get it. I've had to remove some people who constantly posted drama, backbiting, and gossip on Facebook. And there is certainly nothing wrong with preaching against those types of things, because they can happen in everyday life, let alone social media. Can Facebook and other social media be used for evil? Absolutely. But that, in and of itself, does not make those things evil. It is no different than when radio, television and the telephone came on the scene. All of those things are primarily used for evil communications these days. But does that make them evil? No. Can anything good come out of using those things? Yes. Just like radio, television and the telephone, social media is merely a means of communications. How and what you communicate and what you allow to be communicated to you is what is important.

I've heard more than one preacher say that Facebook is like looking out your window to see what your neighbors are up to. And although it sounded funny, it was obvious that these preachers have no idea how Facebook works. First, you can't see anything unless the person posting it has allowed you to see it. Second, posting something on Facebook is no different than making a phone call to tell someone your news. Except with Facebook you can reach a lot of people at once.

It has been said that there are no biblical reasons to use Facebook or other social media. Well, although there are no scriptures that directly relate to social media, there is actually more scripture to support the use of social media than there are for Sunday School, a bus ministry, or inviting a lost person to church. In fact, here are some great scriptural ways that anyone can use social media, like Facebook.

1. WITNESSING. 
Mark 16:15 
"And he said unto them, Go ye into all the world, and preach the gospel to every creature."
Facebook is a great way to give your testimony, present the gospel and post scripture in a format where it might be read by friends, family or other lost people.
2. PRAYER AND FELLOWSHIP.
James 5:16
"Confess your faults one to another, and pray one for another, that ye may be healed. The effectual fervent prayer of a righteous man availeth much." 
Philippians 2:1-2
"If there be therefore any consolation in Christ, if any comfort of love, if any fellowship of the Spirit, if any bowels and mercies, Fulfil ye my joy, that ye be likeminded, having the same love, being of one accord, of one mind."
During the week I enjoy the moments of fellowship that I often have with like-minded believers on Facebook. We post about our joys, sorrows, prayer requests and Bible quotes. On more than one occasion I was lifted up by a post on a day when I was feeling down. I have had others tell me the same thing. These are all things we are supposed to do, and when using Facebook as a source to carry those things out, I fail to see where that is evil.
Social mediums, whether it be telephone, internet or face-to-face, should never take the place of the local church. Chatting or having Bible study via those mediums is not a bad thing, but should never replace attending a local, bible-believing church when it is possible.
3. STUDY.
2 Timothy 2:15
"Study to shew thyself approved unto God, a workman that needeth not to be ashamed, rightly dividing the word of truth."
I often use different topics and threads on Facebook as a springboard to a serious Bible study. Comments and Bible references are made, and questions are asked. It is really not a whole lot different then checking out a commentary or reading a book on a certain passage or subject from the Bible. The biggest difference is that questions can be asked to those posting their comments.
So, as you can see there are at least three good, biblical ways to use Facebook. Just like anything else in life that has the potential to be used for both good and evil, it all depends on how you choose to use it.
One last thing I would like to address is this idea going around that Mark Zuckerberg plans to make Facebook the new church. The thing is, this kind of mentality has been around long before Zuckerberg and Facebook. As I stated before, there have been different groups and forums on the internet for more than 20 years. I highly doubt Zuckerberg will succeed in replacing the local church. However, there will always be those who will choose to forsake the assembling together in a local church setting as the Lord originally planned and use social media fellowships as an excuse to not have to go to church. A true Bible believer knows that he or she should attend a local, Bible-believing church when it is possible.
Preacher, please stick with preaching the King James Bible and stop trying to bully people into conforming to your image and living your personal convictions.
I'll leave off with this chapter from the book of Romans.
Romans 12:1-21
"I beseech you therefore, brethren, by the mercies of God, that ye present your bodies a living sacrifice, holy, acceptable unto God, which is your reasonable service. And be not conformed to this world: but be ye transformed by the renewing of your mind, that ye may prove what is that good, and acceptable, and perfect, will of God. 
For I say, through the grace given unto me, to every man that is among you, not to think of himself more highly than he ought to think; but to think soberly, according as God hath dealt to every man the measure of faith. For as we have many members in one body, and all members have not the same office: So we, being many, are one body in Christ, and every one members one of another. Having then gifts differing according to the grace that is given to us, whether prophecy, let us prophesy according to the proportion of faith; Or ministry, let us wait on our ministering: or he that teacheth, on teaching; Or he that exhorteth, on exhortation: he that giveth, let him do it with simplicity; he that ruleth, with diligence; he that sheweth mercy, with cheerfulness.
Let love be without dissimulation. Abhor that which is evil; cleave to that which is good. Be kindly affectioned one to another with brotherly love; in honour preferring one another; Not slothful in business; fervent in spirit; serving the Lord; Rejoicing in hope; patient in tribulation; continuing instant in prayer; Distributing to the necessity of saints; given to hospitality. 
Bless them which persecute you: bless, and curse not. Rejoice with them that do rejoice, and weep with them that weep. Be of the same mind one toward another. Mind not high things, but condescend to men of low estate. Be not wise in your own conceits.
Recompense to no man evil for evil. Provide things honest in the sight of all men. If it be possible, as much as lieth in you, live peaceably with all men. Dearly beloved, avenge not yourselves, but rather give place unto wrath: for it is written, Vengeance is mine; I will repay, saith the Lord. Therefore if thine enemy hunger, feed him; if he thirst, give him drink: for in so doing thou shalt heap coals of fire on his head. Be not overcome of evil, but overcome evil with good."
Categories: None
/