| | |
| --- | --- |
| Posted on 12 June, 2019 at 21:15 | |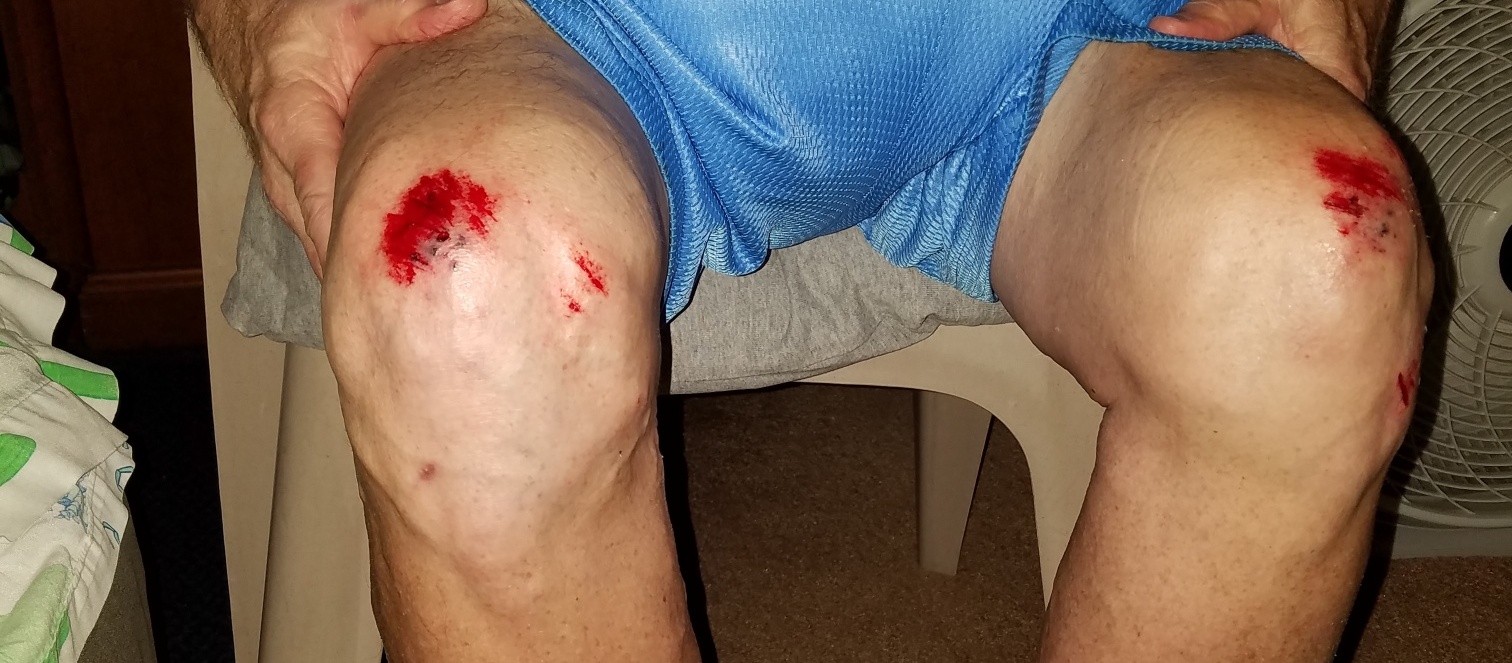 Yea, those are my blue shorts and my bloody knees...
The way I see it, I gave up a little skin to witness to a young man--a young black man. (I wish I had a picture of us.)
Here is what happened...
A few weeks back, I saw this man who I said "Hi" to before and thought I could witness to him today, especially since he was all alone in his hallway. We started talking and wouldn't you know it, his friend came over, which changed the whole scenario. I thought to myself, "I'm sure I'll get ANOTHER chance," and that chance happened today.
Well... I was on my exercise walk home, and, wouldn't you know it, the Lord sent an angel by to trip me. Besides my two scrapped knees in the picture, I had another one under the side of my elbow and I strained a stomach muscle under my breast. (That hurt the most, and, hours later, seems to be slowly subsiding).
Well, who passes by...? THIS young man on his bicycle. He said, after he began to help me home, that he saw me "on the other side" (of the road), when he was going to the store, and thought he might see me on his return trip, after the angel tripped me.   (The last five words were just in jest. 
 )
Anyway, he told me that he is twenty-three, his mom has been in the hospital for the last few days, and THAT HE IS MOVING FRIDAY. (Today is Wednesday!! — SEE... The Lord knows what He is doing.)
The last thing I will say, as this young man helped me home for about three-quarters of a mile (me on one side and his bicycle on the other)... he listened to every tenant (my term) of the Gospel he was presented with.
At the end, I thanked him, hugged him, exchanged phone numbers and I gave him TWO of my online tracts.
After viewing my chicken tract (www.uchicken2.com), he wrote me back these words...
"I'm definitely chicken." ❤️

Categories: None
/