| | |
| --- | --- |
| Posted on 8 June, 2011 at 22:21 | |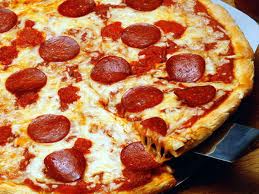 On our way home from the Doctor's office, my thirteen year old son traveling companion and I stopped off to order pizza for dinner, to reward my family for doing some unexpected chores. After placing my order, we went outside to sit in my van for ten minutes, until they were ready.
The Pizza store owner's twenty-one year old son passed by and I just missed giving him a tract. I was determined not to miss again.
Much to my surprise and delight, this young man circled around and headed back to the pizza store. With my door ajar and my window fully opened—prompted by the summer's heat, this time I called out "Hi.  Can I leave you something." He stopped dead in his tracks, replying "Sure."
He took the tract, and after a short conversation he explained to me that his twenty-two year old friend had just died, the week before. That was just the segueway I needed to give him the Gospel. When we were done conversing, he informed me that he was still young and wanted to continue in his sins.
After another twenty minutes of conversation, now deeply under conviction, he was no longer talking about continuing his fore-planned plight of sins, only now eager to get them forgiven.
At my direction, he removed his cap and swiftly bowed his head. I put my arm around him and began to lead him in prayer. But, something changed. The Lord led me to decline my offer of prayer and go another way—suggesting that he pray on his own. And, pray he did, with no further prompting. "I need you, now, Lord. Come into my heart and save me. Please forgive me."  I think he prayed that last sentence three times.
When he was done praying,  besides inviting him to church, I gave him more tracts and a Gospel of John and Romans.
Saying our good-byes, he blurted out, "Thank you, thank you, thank you. Really man …thanks." And, we were on our way back home, rejoicing with the angles in Heaven that another sinner had repented, all the while smelling the aroma of our newly purchased boxes of cooled-down pizza.
Pastor Bob
Categories: None
/