| | |
| --- | --- |
| Posted on 23 June, 2011 at 22:05 | |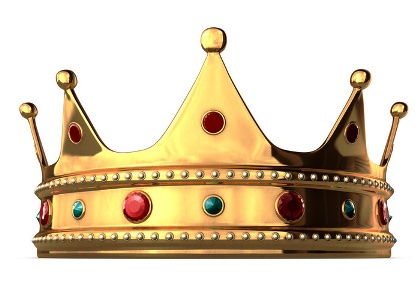 "The LORD is good to all: and his tender mercies are over all his works. All thy works shall praise thee, O LORD; and thy saints shall bless thee. They shall speak of the glory of thy kingdom, and talk of thy power; To make known to the sons of men his mighty acts, and the glorious majesty of his kingdom. Thy kingdom is an everlasting kingdom, and thy dominion endureth throughout all generations." Psalms 145:9-13
The word kingdom is found in the Bible 316 times.
kingdoms – 55
king – over 500 times
kings – 309 – There are two books of the Bible with that name…Kings
throne – 159
crown -- 66
reign – 162…
Exodus 15:18… "The LORD shall reign for ever and ever."
Revelation 11:15… "And the seventh angel sounded; and there were great voices in heaven, saying, The kingdoms of this world are become the kingdoms of our Lord, and of his Christ; and he shall reign for ever and ever."
Revelation 20:6… "Blessed and holy is he that hath part in the first resurrection: on such the second death hath no power, but they shall be priests of God and of Christ, and shall reign with him a thousand years."
Revelation 22:5… "And there shall be no night there; and they need no candle, neither light of the sun; for the Lord God giveth them light: and they shall reign for ever and ever."
Psalms 45:6-7 - God's Kingdom has two aspects to it…
A literal aspect:
"Thy throne, O God, is for ever and ever: the sceptre of thy kingdom is a right sceptre."
A spiritual aspect:
"Thou lovest righteousness, and hatest wickedness: therefore God, thy God, hath anointed thee with the oil of gladness above thy fellows."
See this verse, again, in the New Testament…
"But unto the Son he saith, Thy throne, O God, is for ever and ever: a sceptre of righteousness is the sceptre of thy kingdom. Thou hast loved righteousness, and hated iniquity; therefore God, even thy God, hath anointed thee with the oil of gladness above thy fellows." Hebrews 1:8-9
One of the most important subjects, in Scripture, is understanding the difference in these two kingdoms. According to II Timothy 2:15; we are to rightly divide the differences.
One, as we read, will be a literal, physical Davidic Kingdom that will be set up in Jerusalem. That Kingdom will last for a thousand years. Notice:
And, behold, thou shalt conceive in thy womb, and bring forth a son, and shalt call his name JESUS. He shall be great, and shall be called the Son of the Highest: and the Lord God shall give unto him the throne of his father David: And he shall reign over the house of Jacob for ever; and of his kingdom there shall be no end. Luke 1:31-33. (See also, Luke 1:72-73)
Adam was a King on this Earth. If you don't believe me, believe the Scripture…
"So God created man in his own image, in the image of God created he him; male and female created he them. And God blessed them, and God said unto them, Be fruitful, and multiply, and replenish the earth, and subdue it: and have dominion over the fish of the sea, and over the fowl of the air, and over every living thing that moveth upon the earth." Genesis 1:27-28
Adam could have lived in God's Paradise, without incident. But, that was not the case. Moreover, God commanded him…
"And the LORD God commanded the man, saying, Of every tree of the garden thou mayest freely eat: But of the tree of the knowledge of good and evil, thou shalt not eat of it: for in the day that thou eatest thereof thou shalt surely die." Genesis 2:16-17
According to Genesis 5:5, Adam lived for nine hundred and thirty years. (That's the first time that the word "died" shows up in Scripture. In Genesis five verse five. When Christ died, He had five wounds in his body.) Either, God is a liar, or something happened to Adam, the DAY he ate of that awful fruit.
Adam didn't die PHYSICALLY that day, he died SPIRITUALLY. (Every man since had been "…dead in trespasses and sins…." Ephesians 2:1)
So the Kingdom of God went out. Man, who was a created being, and was created in the very image of God, now lost God's nature. That nature was spiritual. Jesus said, "God is a Spirit: and they that worship him must worship him in spirit and in truth." John 4:24
God spent the next thirty-six hundred years trying to bring in His Kingdom, to no avail. It didn't work. It couldn't work. Why? It wasn't spiritual. Without God's righteousness, Man was hopelessly lost.
When Christ came to Earth, like it says in the Gospels, both kingdoms were at hand.
Matthew's Gospel traces Christ back through His earthy lineage. What a fitting kingdom, for a king whose roots go back to Abraham (the progenitor of the Hebrews) and King David (Israel's great King).
Luke traces Christ clear back to Adam. Why Adam? That's where man died spiritually!
While Matthew's Gospel dealt primarily with the Kingdom of Heaven, Luke's Gospel dealt primarily with the Kingdom of God.
Here's a definition of the Kingdom of God…
"For the kingdom of God is not meat and drink; but righteousness, and peace, and joy in the Holy Ghost." Romans 14:17
Do you see it? The Kingdom of God is not physical, like meat and drink. It is righteousness, peace and joy in the Holy Ghost. That "Ghost" is the Ghost that Adam lost when he sinned against God, the day he died.
Here's a second definition…
"For the kingdom of God is not in word, but in power." 1 Corinthians 4:20
The Kingdom of God is not anything you can see. It is something you can't see, like a Ghost. Why? It is spiritual.
When Jesus came the first time, BOTH kingdoms were at hand.
Since, His literal kingdom—the Kingdom of Heaven was rejected (because He was rejected as King by His brethren. See John 1:11 and Acts 7:13), the only thing God could do was to establish His other kingdom—the Kingdom of God.
A man must be born spiritually in order to enter this kingdom.
Jesus said, "Verily, verily, I say unto thee, Except a man be born again, he cannot see the kingdom of God. ...Except a man be born of water and of the Spirit, he cannot enter into the kingdom of God. That which is born of the flesh is flesh; and that which is born of the Spirit is spirit. Marvel not that I said unto thee, Ye must be born again. The wind bloweth where it listeth, and thou hearest the sound thereof, but canst not tell whence it cometh, and whither it goeth: so is every one that is born of the Spirit." John 3:3-8
After the Church age is ended, and Christ returns to this Earth, He will set up His prophesied Kingdom of Heaven. And, He will rule and reign for a one thousand year period as "KING OF KINGS AND LORD OF LORDS." (Revelation 19:16)
"When they therefore were come together, they asked of him, saying, Lord, wilt thou at this time restore again the kingdom to Israel?" Acts 1:6

For further reading...

http://www.nowtheendbegins.com/kingdom-of-heaven-and-kingdom-of-god-compared-contrasted/

Categories: None
/