| | |
| --- | --- |
| Posted on 1 October, 2011 at 14:25 | |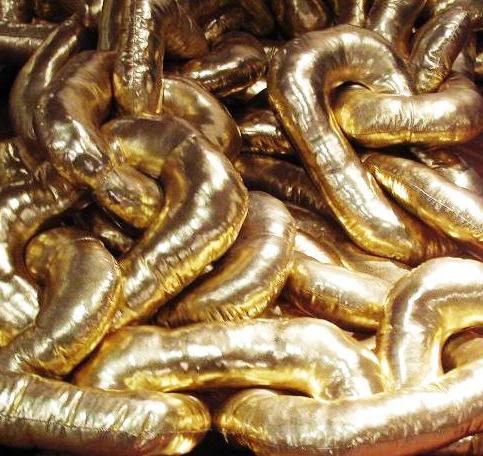 About a month ago, my wife took my children with her on some errands, while I stayed home.  Before returning, they visited a second hand store and purchased a few clothing items that looked like they were never worn. 
That night, my young son showed me three gold chain necklaces that he had purchased, earlier that day, at the store, for a few cents each.  He informed me that what were once pretty dirty chains were now, through repeated washings, in their best condition possible.
Since it was late at night, and I couldn't see—even with all the lights in the room glaring down on the clasps—I called for my "basement flashlight."
My young son retrieved it for me, alright, but the batteries were dead.
Even after replacing them, it was still difficult to make out the jeweler's mark that was patiently waiting to be viewed.  "If just a little light would do its job," I thought, "then this would all be over."  Frustrated, and wanting to see if I had anything of value in my hand, I now called for a stronger, brighter light to view my son's find.  "At last," I thought, "it worked!"  I could now see everything I had hoped to view almost a half an hour before.  "Now," I continued, "to the task at hand."
The first chain had a silver hue to it.  The imprint said it was gold plated.  "One down, two to go," I thought. The next one, also, was a fake. It stated on its inscription "gold tone," with some other numbers and marks stamped on it.
"Two down, one more to go," my mind said.  "This has got to be it!"  It was!  This one said "14 K," on the clasp.  "Eureka!!!" I thought.  "All this work paid off."  Now, my son—my good son and I were partners in his find. (Honestly, I had planned to give him most of any monies that we received, once we were paid by the jewelers.)
Because the jewelery store was so far away, and money for gas so tight, I thought it would be better to wait for a more convenient day to go. That day finally arrived.  It was yesterday.  Before we left I took the chain with me, just incase the day allowed us to go near my jeweler's location.  After we had finished our many appointments, I drove, way out of my way, to visit his store.  My children and I piled out of the van, crowding into his shop.  I was disappointed, when I learned that the friendly Jeweler, I was hoping to see, left for the day.  But, thankfully, two of his workers were on the job.  One of them took our prized chain out of my hand, quickly placing it under the microscope, and just as quickly returning it. "What's wrong," I thought, as he was handing me a new jeweler's zip-lock plastic bag to replace the one he had just ripped open, to retrieve my chain.  As if he had heard me, this is what he said: "They are doing that these days." 
As we thanked him for seeing us, we quickly, out of embarrassment, whisked ourselves toward the front door.  It dawned on me, as we were exiting, exactly what he meant. He meant that criminals these days are putting a stamp of approval on jewelry, they know, that is actually fake—a counterfeit. In other words, what is imprinted on the clasp is not what lies beneath.
Have you ever heard the expression "All that shines is not silver, and all that glitters is not gold?"
Have you every seen the words "Holy Bible" stamped, in gold, on the cover of a book?  If you look close, I wonder if the stamp of approval matches exactly with what's lying beneath its printed pages, inside.


If crooks are putting their stamp of approval on fake jewery, to pass them off as genuine, I wonder who are the thieves putting their stamp of approval on books that say "Holy Bible," and really aren't?
How pure is yours?
"The words of the LORD are pure words: as silver tried in a furnace of earth, purified seven times.  Thou shalt keep them, O LORD, thou shalt preserve them from this generation for ever."  Psalms 12:6-7
Pastor Bob
Categories: None
/