| | |
| --- | --- |
| Posted on 11 February, 2012 at 17:55 | |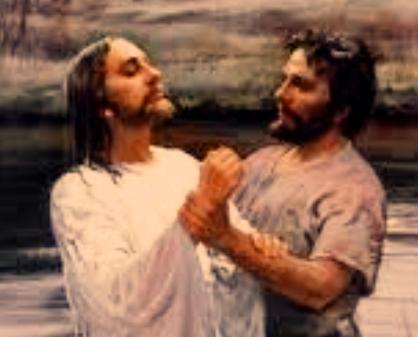 "There is one body, and one Spirit, even as ye are called in one hope of your calling; One Lord, one faith, one baptism…." (Ephesians 4:4-5)
1 - The Baptism of Jesus — Begins His ministry as prophet.
Matthew 3:13 Then cometh Jesus from Galilee to Jordan unto John, to be baptized of him.14 But John forbad him, saying, I have need to be baptized of thee, and comest thou to me? 15 And Jesus answering said unto him, Suffer it to be so now: for thus it becometh us to fulfil all righteousness. Then he suffered him. 16 And Jesus, when he was baptized, went up straightway out of the water: and, lo, the heavens were opened unto him, and he saw the Spirit of God descending like a dove, and lighting upon him: 17 And lo a voice from heaven, saying, This is my beloved Son, in whom I am well pleased.

John Baptized Jesus to manifest himself to Israel as their Messiah.  "And I knew him not: but that he should be made manifest to Israel, therefore am I come baptizing with water."  (John 1:31)

2 - The Baptism of John — Repentance unto the coming of the Messiah
Matthew 3:1 In those days came John the Baptist, preaching in the wilderness of Judaea, 2 And saying, Repent ye: for the kingdom of heaven is at hand. 3 For this is he that was spoken of by the prophet Esaias, saying, The voice of one crying in the wilderness, Prepare ye the way of the Lord, make his paths straight. 4 And the same John had his raiment of camel's hair, and a leathern girdle about his loins; and his meat was locusts and wild honey. 5 Then went out to him Jerusalem, and all Judaea, and all the region round about Jordan, 6 And were baptized of him in Jordan, confessing their sins.
7 But when he saw many of the Pharisees and Sadducees come to his baptism, he said unto them, O generation of vipers, who hath warned you to flee from the wrath to come? 8 Bring forth therefore fruits meet for repentance: 9 And think not to say within yourselves, We have Abraham to our father: for I say unto you, that God is able of these stones to raise up children unto Abraham. 10 And now also the axe is laid unto the root of the trees: therefore every tree which bringeth not forth good fruit is hewn down, and cast into the fire. 11 I indeed baptize you with water unto repentance:
"Then said Paul, John verily baptized with the baptism of repentance, saying unto the people, that they should believe on him which should come after him, that is, on Christ Jesus." (Acts 19:4)
3 - The Baptism of the Holy Spirit — This occurs whenever a believer is placed into the body of Christ.
Matthew 3:11 I indeed baptize you with water unto repentance: but he that cometh after me is mightier than I, whose shoes I am not worthy to bear: he shall baptize you with the Holy Ghost, and with fire: 12 Whose fan is in his hand, and he will throughly purge his floor, and gather his wheat into the garner; but he will burn up the chaff with unquenchable fire.
Note: If someone doesn't get saved by the by being baptized by the Holy Ghost, placing you in Christ, the alternative is Hell fire.
Notice: Mark 1:8 "I indeed have baptized you with water: [John's baptism could only baptize somebody with water] but he [Christ] shall baptize you with the Holy Ghost." That was fulfilled on the day of Pentecost… [Acts 1:5] "For John truly baptized with water; but ye shall be baptized with the Holy Ghost not many days hence."
I Corinthians 12:13 "For by one Spirit are we all baptized into one body, whether we be Jews or Gentiles, whether we be bond or free; and have been all made to drink into one Spirit."
Galatians 3:26 For ye are all the children of God by faith in Christ Jesus. 27 For as many of you as have been baptized into Christ have put on Christ. 28 There is neither Jew nor Greek, there is neither bond nor free, there is neither male nor female: for ye are all one in Christ Jesus.
Ephesians 4:4 There is one body, and one Spirit, even as ye are called in one hope of your calling; 5 One Lord, one faith, one baptism…. This is the one TRUE baptism that put's us into Christ.
Romans 6:1 What shall we say then? Shall we continue in sin, that grace may abound? 2 God forbid. How shall we, that are dead to sin, live any longer therein? 3 Know ye not, that so many of us as were baptized into Jesus Christ were baptized into his death? 4 Therefore we are buried with him by baptism into death: that like as Christ was raised up from the dead by the glory of the Father, even so we also should walk in newness of life.
4 - The Baptism unto Moses — Looking back at the deliverance of the nation of Israel.
"Moreover, brethren, I would not that ye should be ignorant, how that all our fathers were under the cloud, and all passed through the sea; And were all baptized unto Moses in the cloud and in the sea…." (I Corinthians 10:1-2)
Israel didn't know at the time they crossed the Red sea that it was a baptism. Israel, as a nation, was corporately baptized by aspersion, and had to wait over fifteen centuries, later, for the Spirit of God to tell them so.
5 - Baptism of Jewish believers, mentioned only one time in the Bible Acts two and repeated, again, in Acts nineteen because the Jews Paul was speaking to only knew John's Baptism.
"Then Peter said unto them, Repent, and be baptized every one of you in the name of Jesus Christ for the remission of sins, and ye shall receive the gift of the Holy Ghost." (Acts 2:28)
This was the only time the formula "baptized…in the name of Jesus Christ" was ever used.  Please, see the article "Can you explain why someone had to be re-baptized in Acts chapter nineteen?"
6 - The Baptism of Suffering — Cup/Baptism
Jesus Christ "drank" the cup of suffering for our sins. The sins of the whole world were put into one cup when Christ suffered to "drink" them on Calvary. "But we see Jesus, who was made a little lower than the angels for the suffering of death, crowned with glory and honour; that he by the grace of God should taste death for every man." (Hebrews 2:9) Jesus tasted death for every man. (Here, please, read Isaiah Fifty-three)
"For he hath made him to be sin for us, who knew no sin; that we might be made the righteousness of God in him." (II Corinthians 5:21)
"Who his own self bare our sins in his own body on the tree, that we, being dead to sins, should live unto righteousness: by whose stripes ye were healed." (I Peter 2:24)
Matthew 26:36 Then cometh Jesus with them unto a place called Gethsemane, and saith unto the disciples, Sit ye here, while I go and pray yonder. 37 And he took with him Peter and the two sons of Zebedee, and began to be sorrowful and very heavy. 38 Then saith he unto them, My soul is exceeding sorrowful, even unto death: tarry ye here, and watch with me. 39 And he went a little farther, and fell on his face, and prayed, saying, O my Father, if it be possible, let this cup pass from me: nevertheless not as I will, but as thou wilt. 40 And he cometh unto the disciples, and findeth them asleep, and saith unto Peter, What, could ye not watch with me one hour? 41 Watch and pray, that ye enter not into temptation: the spirit indeed is willing, but the flesh is weak. 42 He went away again the second time, and prayed, saying, O my Father, if this cup may not pass away from me, except I drink it, thy will be done. 43 And he came and found them asleep again: for their eyes were heavy. 44 And he left them, and went away again, and prayed the third time, saying the same words. 45 Then cometh he to his disciples, and saith unto them, Sleep on now, and take your rest: behold, the hour is at hand, and the Son of man is betrayed into the hands of sinners. 46 Rise, let us be going: behold, he is at hand that doth betray me.
[Luke 12:50] "But I have a baptism to be baptized with; and how am I straitened till it be accomplished!" [Mat 20:22] "But Jesus answered and said, Ye know not what ye ask. Are ye able to drink of the cup that I shall drink of, and to be baptized with the baptism that I am baptized with? They say unto him, We are able." [Mat 20:23] "And he saith unto them, Ye shall drink indeed of my cup, and be baptized with the baptism that I am baptized with: but to sit on my right hand, and on my left, is not mine to give, but it shall be given to them for whom it is prepared of my Father."
7 - The Believer's Baptism — Identification with Christ pictured by water baptism.
"He that believeth, and is baptized shall be saved; but he that believeth not shall be damned." (Mark 16:16)
This Baptism is the answer of a good conscience toward God.
"The like figure whereunto even baptism doth also now save us (not the putting away of the filth of the flesh, but the answer of a good conscience toward God,) by the resurrection of Jesus Christ…." (I Peter 3:21)
I Corinthians 1:11 For it hath been declared unto me of you, my brethren, by them which are of the house of Chloe, that there are contentions among you. 12 Now this I say, that every one of you saith, I am of Paul; and I of Apollos; and I of Cephas; and I of Christ. 13 Is Christ divided? was Paul crucified for you? or were ye baptized in the name of Paul? 14 I thank God that I baptized none of you, but Crispus and Gaius; 15 Lest any should say that I had baptized in mine own name. 16 And I baptized also the household of Stephanas: besides, I know not whether I baptized any other. 17 For Christ sent me not to baptize, but to preach the gospel….
Note: The Gospel is found in I Corinthians 15:1-8
Categories: None
/