Shopping Basket
Your Basket is Empty
There was an error with PayPal
Click here to try again
Thank you for your business!
You should receive an order confirmation from Paypal shortly.
Exit Shopping Basket
| | |
| --- | --- |
| Posted on 20 April, 2014 at 0:40 | |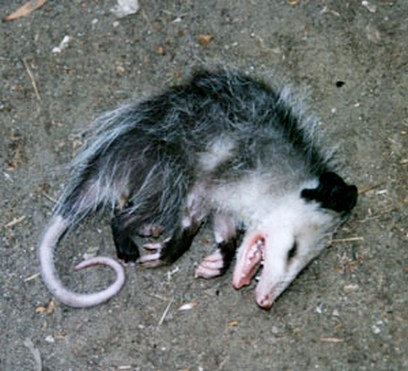 Well... there was this possum that must have been hit and killed by a passing car a few days ago that I passed by again today on the road in front of my housing complex while I was on my daily run/walk. I know that the management office called the proper authorities for someone to come and scoop up this little fella's body, but no one ever showed up. Since it was at least the third day that this little guy was in the road and since it was "Easter" weekend, I figured out an amiable way for me to bag him up to dispose of his corpse so no one would have to deal with his stench. [Believe me, I was taking every precaution. After I found a heavy duty black plastic garbage bag that lined a plastic trash can, I picked him up using two discarded deflated plastic balloons that I found in the trash before I began my premeditated ordeal. Within a few seconds this corpus delicti (don't forget he was the victim of a crime--a hit and run victim) was bagged.]
I'm saying all this because this disgusting experience made me think--think about death. And, since this is passion week, it made me think about the fact that someone had to deal with our Saviour's corpse after he died. Even though Jesus' body was not left on the hot blacktop road to spoil and stink (John 11:39) for three days and nights, it nonetheless was dead and someone had to handle it. Scripture says that both men and women (John 19:38-42 and Mark 16:1) came to care for Jesus' body after he had clearly died.
Tomorrow we celebrate the risen corpse of a dead Jew who only needed to borrow a rich man's tomb for three days and three nights. Why? After that time any sort of contraption that entombed his body was no longer needed because He was no longer dead. The words of the angel that stood at the foot of His now empty tomb summed it up the best...
"...Fear not ye: for I know that ye seek Jesus, which was crucified. He is not here: for he is risen, as he said. Come, see the place where the Lord lay." (Matthew 28:5-6)
Pastor Bob
Categories: None
/